The procurement function has already shown significant changes in recent years, with end-users being the driving force behind improved processes. With many companies recognizing the importance of empowering their employees, delivering seamless experiences is as crucial as ever.
Looking back at the 1970s, the procurement industry has seen a shift from being an afterthought to a crucial area for improvement. At present, it is one of the most cost-intensive processes regardless of geographic location or vertical. These high expenses are often attributed to the high cost of human capital needed to conduct, manage and correct manual purchasing processes. Therefore, consideration of an improved user-experience that reduces friction and automates where possible can greatly lower the human capital and associated expenses needed in the purchasing process.
For this reason, many agree that a catalogue-based, material-master-based and touchless buying technology is the key to supporting their end-users and accelerating the requisition-to-PO process. We look at why this is the case in further detail below.
A New Standard in Purchasing
To learn why this process is faster, it is worthwhile to first consider what "catalog-based, material-master-based, and touchless buying technology" is.
The Supplier Catalogue
In looking at this new standard in purchasing, teams are first introduced to the supplier catalogue, a tool used to facilitate sourcing and the overall procurement of goods and services solution.
Since sourcing is complex, the catalogue-based experience has gained popularity for its ability to provide users with an up-to-date product list from their vendors. Although several kinds of catalogues exist, an external punch-out catalogue is among the most common, allowing users to access an external supplier product list through their company's own ERP system. Users can then follow an "online buying experience" where they can search for the items they are looking for with keywords rather than having to look up product codes, presenting another similarity to the consumer-grade user experience common today. Search results will include an up-to-date product list with specific information about each item such as pricing and expiry dates.
In some cases, a catalogue is combined with a good software to further replicate a consumer-like shopping experience by allowing employees to add items to a virtual shopping cart.
These catalogues are not just a better user experience for employees. Instead, they are also directly linked to the company's material master. Under this model, the end-user is only presented with a few limited options, with only preapproved suppliers being searchable. The catalogue then allows contract pricing to be applied automatically and creates a more efficient process. Consider that under some models, teams would need to constantly reference the material master during the sourcing process, adding to the number of process steps and at times making them more inclined to make off-contract purchases in many cases. For procurement, a purchasing catalogue creates product standardization, a reduction in overall support cost, and a lower overall cost (a higher volume of goods purchased results in better discounts).
Touchless Buying Process
As users navigate the sourcing process, the material-based catalogue becomes part of a larger solution for guided buying. Here, employees will move through a questionnaire-like interface, where they are only presented with the information relevant to a given purchase. For example, although 30-some odd fields may exist on a standard order, teams may only be presented with the 4 or 5 they need to complete.
Moreover, like the online shopping experience, when information is missing (or, in the business case, a purchasing or budget policy is violated), the user will not be allowed to proceed to the submission stage, where they must later await feedback. Instead, they will be informed of the error immediately.
---
Get a detailed breakdown of what catalog-based buying technology might look like for your business.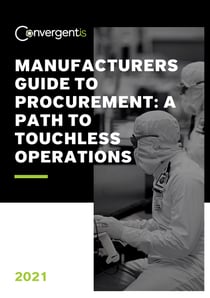 ---
Requisition-to-PO But Faster
So, how does this accelerate the Requisition-to-PO process?
Purchases Set for Preapproval
First, a catalogue-based model alleviates the time it would take for the user to weigh the pros and cons of multiple options and make their selection. Instead, the user can simply go through the few choices that have been vetted by the sourcing team and choose between two or three pre-approved options.
Purchasing in this manner also accelerates the approval process too. With catalogue-based technology, users are only introduced to a user-friendly solution from where they can only purchase from preapproved suppliers. Therefore, if the list of items does not exceed budgeting restraints, then business rules can automatically approve the purchase request without a manager needing to manually hit yes or no. Teams with larger departments can become watchers in the process rather than approvers, meaning they no longer hold up the process but can chip in when they see a problem, also known as management by exception.
Eliminating the Back and Forth
On the surface, a guided buying model accelerates the purchasing process by helping teams quickly complete a transaction. However, other efficiencies are also evident in the guided model, since the technology ensures that a
ll relevant information needed to make a purchase is collected from the beginning. Teams can effectively eliminate any back-and-forth emails that may otherwise be required for missing data.
Start Accelerating Your Processes Today
A catalogue-based, material-master-based, and touchless buying technology sounds more intensive than it is. Fortunately, solutions like the ConvergentIS Rapid Vendor Portal for Vendor Management are built to be easy to adopt.
By using a combination of Design Thinking principles with the innate ability to plug into the SAP Business Network, where a lot of the time, a company's suppliers are already onboarded, this end-to-end solution more closely resembles a plug-and-play model.