Tail spend is a concept well-known by procurement departments but is still rarely optimized. Procurement teams attribute the lack of optimization to the sheer complexity of this type of spend. In most organizations, tail spend involves many transactions, product categories and a significant supplier base, especially when accounting for direct and indirect materials.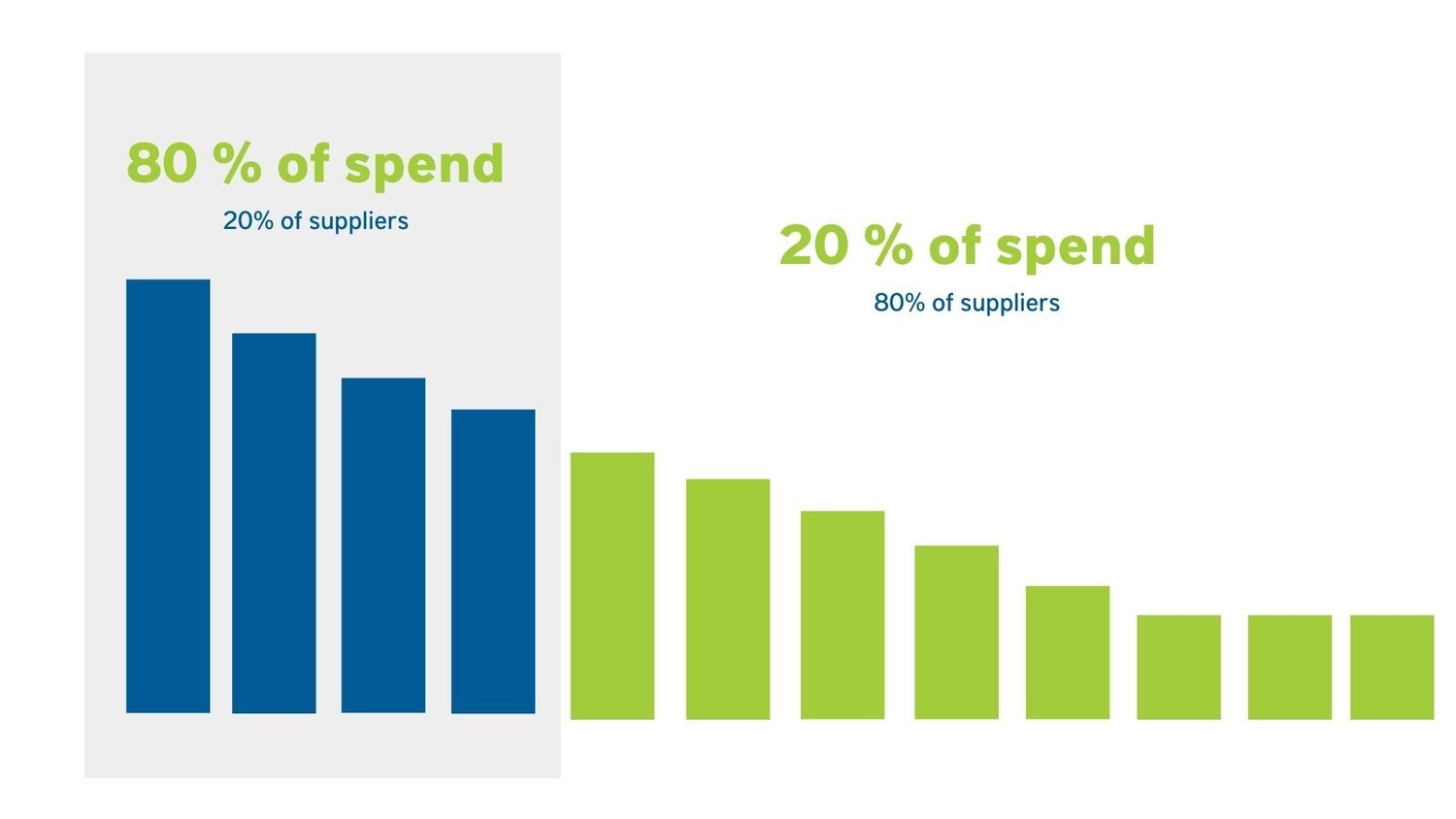 Most businesses define tail spend by referencing the Pareto Principle, or 80/20 rule. As a quick recap, the 80/20 rule suggests that 80% of total organizational spend is conducted with 20% of an organization's suppliers. Top suppliers require greater management and are considered strategic buys since more negotiation is required. However, businesses will typically have many smaller suppliers which make up 80% of their total suppliers. This broader group of small suppliers only accounts for about 20% of the organization's spend and makes up what is known as the spend tail. Again, consider that 20% is a significant number when the discussion involves billions of dollars.
Why Businesses Should Care About Tail Spend
Tail spend is typically considered outside of strategic spend and is therefore not seen as a worthwhile investment of time or effort to optimize. As leaders receive additional pressure to reduce costs and focus on sustained savings through purchasing, the Boston Consulting Group has released a study suggesting that Chief Procurement Officers should not overlook tail spend.
In this study, 27% of companies said they experienced annual savings of between 5% and 10%, while 30% of companies have seen savings of at least 10% simply by turning attention to optimizing tail spend. This percentage may sound small but consider that for global companies with billions of dollars in capital expenditure this could equate to millions of dollars in savings. A secondary benefit comes from engaging with small yet innovative suppliers. If engaged directly, many of these businesses may develop game-changing ideas that can give your business a competitive edge your internal team may have overlooked. Some examples may be environmentally friendly solutions or connections to diversify your supply chain.
To achieve these savings, and put some extra cash in the bank by achieving operational efficiencies, here are some practical tips your team can apply today.
How Does My Team Define Tail Spend?
When creating a plan for tail spend optimization, it is essential to define what this means in the context of your organization. A simple definition of tail spend is any vendor that procurement does not actively or strategically manage. Therefore, tail spend may include non-PO spend, spend with a one-time vendor, unclassified spend, fragmented spend, spot buys, low-value transactions and low-value spend.
The definition above is broad. Therefore, procurement leads will need to define what tail spend means in their organization's context. Failure to do so can result in:
Difficulty in optimizing suppliers in both the strategic and tail spend categories

Lack of visibility resulting in optimization opportunities being overlooked

A lack of clear metrics, making it difficult to measure growth
To create this definition, three steps should be followed:
Get a visual representation of spend information
Consider what spend areas will have the largest potential cost savings

Compare against industry-specific dynamics
Achieving these savings will require initiatives for improved visibility and management of tail spend to be put in place. Here is what this process looks like in more depth.

Steps to Manage Tail Spend
The first step for many organizations is to establish a threshold of what purchases require management and approval by the procurement team. Although this is effective, a spend threshold will not eliminate maverick spend, nor will it ensure that your business operates as efficiently as possible. However, getting access to the right data in the right format to inform strategic decisions is often easier said than done.
Spend data (and specifically expense reports) may only exist on decentralized channels such as emails, spreadsheets, or spot procurement solutions. Therefore, even sorting the data would take several months without modern procurement solutions. It's easy to become overwhelmed, but we've outlined five actionable steps you can take today to begin building a strategic framework to manage tail spend.
1. Conduct a Baseline Assessment
Organizations with complex procurement processes may decide to undergo a Tail Spend Assessment with the intent to define tail spend and understand their current system of things (which is likely different from the processes documented in a company compliance binder). Procurement managers should also compare expenditures across categories, business units, and suppliers to understand the spending per subcategory.
The assessment will cover both the current processes and develop a baseline to build benchmark KPIs off.
2. Determine Visibility
In most cases, businesses lose visibility when different procurement processes are run on different systems or managed by siloed subgroups in the same organization. Upon a quick inspection, if you notice that your team uses the same vendors or resources for different projects without another subgroup knowing, improvements in visibility are needed.
Visibility can be maintained using big data and analytics, automation, and other digital platforms to create an overview of the spending baseline. Using these tools can help ensure the repeated cleansing and classification of transaction data and that spend visibility is maintained. Some organizations may even opt for a monthly data refresh to ensure all data remains accurate.
3. Identify Process Optimization Opportunities
After gaining visibility into how your team is managing tail spend and what that spend is, the next area for consideration is centralization. By creating one unified solution for procurement, your team places itself in a position to save money, provide easier access to relevant data, and more strategically plan and forecast cash flows.
Among the most common optimization opportunities are:
Consolidating suppliers so your business can increase buying power and negotiate for better prices

Providing education for staff on effective purchasing strategies

Using reverse auctions as a method to reduce costs

Creating clear policies that are simple for buyers to follow

Tools that create guided processes for users to follow
These processes may be different than what your team is currently doing; some change management and staff training may be required first.
4. Deploy Relevant and Complementary Procurement Applications
Another way businesses approach standardization in their tail spend process is through catalogues. While catalogues are effective since they offer a single option and supplier for each item, they can be clunky and inefficient as they are infrequently updated. That said, compliance benefits gained from using a catalogue can be carried forward into SAP Fiori applications that incorporate and enforce spending policies through a guided entry process. Many ConvergentIS apps available as part of the complete procurement suite can cross-check what people are buying and raise alarms if they disregard tail spend guidelines.
Before deploying any applications, it is crucial for teams to consider how optimized procurement management aligns with their current digital capabilities. A design thinking workshop may be used to help determine what the end-to-end spend management process will look like.
5. Measure Performance for Continued Improvement
The emphasis on cost reduction and savings has only increased as businesses have become more efficient. Therefore, bringing tail spend to senior leaders' attention should continue to be a top priority for organizations. For departments struggling to optimize these processes, hiring a third party to help identify optimization opportunities and implement the solution for maximum adoption might be a worthwhile investment. Procurement teams should regularly assess metrics and KPI's to determine if teams adopt the initiatives and if the improvement has a measurable payoff.
When looking at the entire procurement process, some businesses have realized 30-50% cost savings in productivity, training, data quality, and solution accuracy.
The bottom line is that tail spend management has still not hit mainstream automation, making the process outdated, when compared to advancements in strategic spend technology. The ConvergentIS team has revolutionized the entire procurement process to encompass tail spend management as a profit generating center. To learn how we encourage you to download our complete procurement optimization guide.