Businesses seeking to retain and grow market share in the digital age have been forced to reevaluate the way they work. Expanding the definition of the workforce to include non-payroll (contingent workers) and service providers has proven to be an effective means of staying competitive by taking advantage of new talent and abilities that can only be found in niche consulting firms, marketing agencies or otherwise unique talent.
Despite the importance of this group of workers, many companies still consider this external workforce as separate from their full-time employees, resulting in this group being overlooked and under managed. In addition, many C-level executives don't realize just how much of their workforce is now comprised of external workers. In some industries like insurance, among others, up to 98% of purchased inputs may be services, although the average is still 58% according to Allegis Global Solutions. When this proportion of spend is overlooked, the business impact can be astronomical.
However, even organizations who recognize how much of their procurement spend comes down to services are still managing service providers as just a "procurement thing." This leaves room for error since procurement rarely has a level of day-to-day visibility in the operational aspects of the work, including the quality of the work being done. Therefore, organizations that adopt an active management approach for service providers have great opportunity to positively impact the bottom line. To guide businesses through managing services procurement, we shed some light on a few guiding factors offering in a vendor portal.
Adding Vigor to Your Management
So, how do you manage services procurement the right way? Is there a right way?
Outcome-based services require slightly different considerations than goods procurement due to their ongoing negotiation. That said, tracking is not impossible; your management just needs a little vigor. In this context, added vigor refers to actively monitoring services procurement through quality work, progress against milestones, progress against estimates and more. Gaining insight into work quality can give organizations confidence in assessing the direct value that a service provider brings to your company and help teams understand when it is time to pivot when things go off the rails. The other mentioned factors can be used in a similar manner.
While some organizations argue that they are already doing this, estimates, pricing, limits and milestones are often only managed by the team interacting directly with the worker, which may be further limited if documentation is done on a spreadsheet. This valuable data may never be escalated to other departments in your organization who may benefit from it, or it may be lost as the number of spreadsheets becomes overwhelming for users to manage. To gain true visibility, it comes down to leveraging your ERP as a single-source of truth for your total workforce—including contingent workers and service providers.
Leverage Technology to Drive Value
Your team likely already has a robust HR solution to manage your full-time employees; however, you may be lacking the technology to apply this at an operational level for contract services. As a result, you could be missing out on a major opportunity to leverage technology to drive more value.
Businesses do well to ask themselves, "Does my technology allow me to support different pricing models (between the different types of services spend)? Does my technology allow my team to determine the project scope? Does it enable real-time collaboration?" If you answered no to any of these questions, there is a good chance your tools are not optimized as much as they could be.
Attention to Detail, but Make It Simple
Adding this level of detail to management shouldn't add to the workload of existing employees. Rather, by taking advantage of management by exception, considerations to your supplier management strategy won't be an isolated effort, so much as it is a part of a greater and more extensive solution towards touchless procurement.
In practice, the first step to managing services is to make it easy to capture this data in the system, guiding users through the process of filling out a purchase requisition. From there, data input in the purchase requisition and stored in SAP can be flipped into the Purchase Order and later the service entry sheet. The process can be touchless under the assumption that when all the values match, there is no need for human approval to occur. Instances where a human is required for approval are limited to "exceptions" in the traditional procurement process. The benefit here is that strategic decision-makers have a greater opportunity to monitor these rare occurrences.
Consider Opportunities for Advanced Analytics
Ultimately, sophisticated vendor management solutions (VMS) can help your organization gain visibility into activity, costs, and delivery of services across your organization, and help you to identify top-performing services across your enterprise and analyze progress against estimates against the results.
Furthermore, when data is consolidated into a single view, teams can take their data one step further with advanced data and analytics (on SAP, this might involve the use of SAP Analytics Cloud) to look beyond fundamentals in the negotiation process and consider which suppliers might be best suited for an upcoming job based on their historical performance. Other uses of data analytics could theoretically construct a predictive "should cost" from market data, historical information, labour rates, etc., allowing teams to be better equipped for ongoing negotiations.
Get Up and Running Quickly
The concept of managing services procurement in a single dashboard is not new, yet it continues to be an ongoing concern for businesses. For this reason, it becomes essential to leverage a services procurement strategy and take advantage of existing capabilities and deploy a solution without delay. Unfortunately, many teams get overwhelmed with the number of considerations and data that needs to be consolidated across their already complex systems. The ConvergentIS team allows businesses to enable their greater services procurement strategy with a Rapid Vendor Portal based on SAP Business Technology Platform (BTP) and SAP Work Zone. This solution is available to be deployed rapidly (depending on the size this can be in as little as 4-8 weeks), so teams can get up and running quickly.
In addition to being quick to deploy, it is also diverse in functionality. By surfacing data from all service procurement processes, it is easy for teams to look at services with an extra level of detail, gain access to more strategic data points and implement tools that enable more strategic thinking.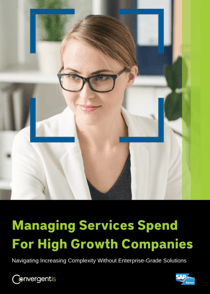 ConvergentIS
ConvergentIS is an SAP Build, Sell and Service partner providing services to clients across North America. Our focus is on the Enterprise User Experience. We are leaders in SAP Fiori, SAP Cloud Platform, SAP Mobility and SAP S/4HANA – both public cloud and on premise.