With popular products like their wearable activity tracker, this consumer technology company helps people all over the world by providing valuable health and fitness metrics. They believe that visibility is the key to progress, and we couldn't agree more.
See how they transformed an inefficient and frustrating process into an optimized, enjoyable workflow by customizing our solution to meet their requirements.
---
In order to simplify and streamline their purchasing process, our client set an initiative to consolidate the Create, Edit, and Review functions for their requisitioners into a single, easy-to-use interface.
Their key areas of focus were:
Productivity improvement for indirect procurement

Error reduction

User interface improvement and purchase requisitioning visibility
Challenges identified included:
Users had a disjointed experience that made it challenging to find and track requisitions.

Entering a requisition was not intuitive, often resulting in inaccurate and incomplete information.

Limitations in the standard solution did not allow user access to requisitions that were created for them by someone else (a common scenario called 'buy on behalf of').

In addition to improving the interface, there were opportunities to accelerate the process by allowing existing PRs to be copied and providing access to previously purchased (free text) items, and adding an option to save multiple drafts.


"

Thank you ConvergentIS for delivering such a fantastic tool. Our users are raving about it! SAP Fiori has made such a positive impact and everyone is thrilled with how much easier their workflow is.

"
— M. THAKRAR, MANAGER OF PROCUREMENT
What the purchase requisition application includes:
Search tools that allow users to quickly locate PRs based on key fields such as approval status, requisitioner, vendor and total PR value.

Direct access from the summary screen to drill into PR details and review things like the progress through the approval workflow, attached documents, the associated PO and individual item details.

Faster PR creation with copy tools and shopping cart access to previously purchased items.

Enforces the selection of the requisitioner from a list of valid users and automatically applies updates to specified fields based on the requisitioner that is selected.

Consolidation of the information that is common to all items on a PR, so that the user is only required to enter it once.

A significantly simplified user interface that removes the unnecessary fields, provides direct search access for vendors and plants and clearly highlights the required fields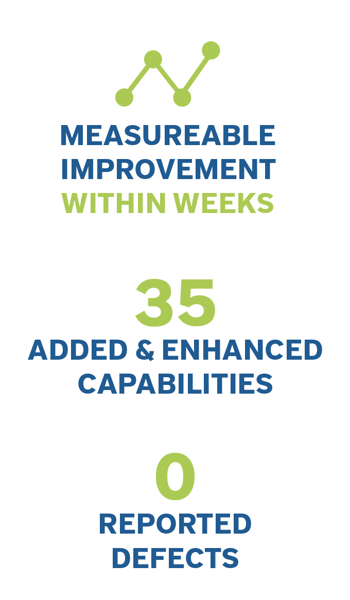 Post-implementation outcomes:
A consolidated application with direct access to create, edit and review requisitions.

Requisitions are simpler to create and are submitted with significantly fewer errors; meaning reduced processing time and cost.

Users have significantly improved visibility into PR details and overall approval status.

The "intuitive usability" has received praise from employees.
By leveraging ConvergentIS's out-of-the-box solution and identifying specific customizations to meet their unique requirements, our client successfully completed an international deployment with zero reported defects. The process from functional review through to the completion of user acceptance testing was less than five months and was completed at a fraction of the cost of fully custom solution.
Read the full customer success story here
Looking to optimize your procure-to-pay and order-to-cash process? Download your copy of our free guide!