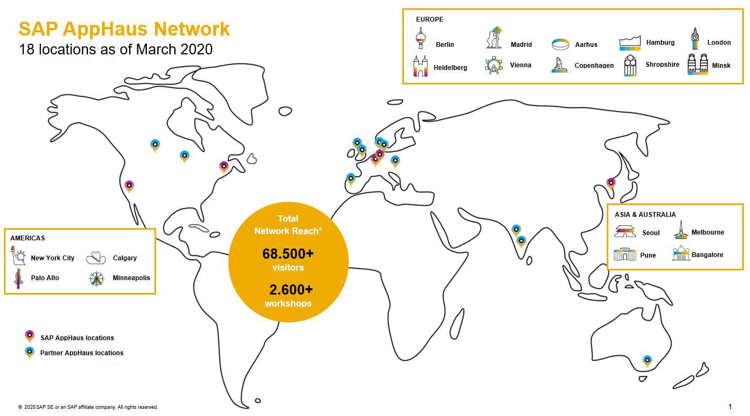 "At a time when the whole world is confronted with the direct and indirect effects of the COVID-19, I am so proud to see that our network community reacts quickly, stands by the customer, and adapts services to help ensure business continuity," shares Kathrin Tarnai-Sindl, the lead for the SAP AppHaus Network in this article.
Remote Design Thinking Workshops
In light of the COVID-19 pandemic, SAP has recognized the efforts of their partners in adapting their offerings to working in new remote circumstances. While we are truly delighted, we admit we can't take all the recognition. After all, with a geographically dispersed team, we learned how to take our design thinking workshops online a while ago. These experiences have helped us to continue providing the same collaboration in remote design sessions and sharing our out-of-the-box solutions even if we couldn't be there in person. "With some advance planning and some additional prep work remote workshops are really effective. They have the same benefits of in person workshops and can be highly engaging and interactive." according to Alissa Sylvestre, VP UX & Design at ConvergentIS.
Like the 12 other AppHaus Network partners, we are truly honoured to continue sharing SAP's human-centered approach to innovation. This community of creative space owners continues to encourage us to put innovation in the hands of people. Now in a virtual creative space, we are excited to continue helping organizations support their digitalized business processes.
A True Honour
"As the first partner selected in the Americas and the only partner in Canada, it is truly an honour to be included as part of such an elite group. It's really inspiring to see how our team has continued delighting in helping our customers unlock potential. The results our team is seeing from innovating with people then deploying on SAP technology in cost-effective, even frugal ways, is driving return on investment for our customers within one year." says Managing Partner & CEO Shaun Syvertsen.
Interested in what remote design thinking workshops could mean for your business? Learn more about remote design thinking on the blog.