After a year marked by a global pandemic, one thing is certain - among the most concerning problems facing manufacturers today is supply chain disruption. Scarcity of basic components as a result of pandemic restrictions, tariff wars and shipping delays have driven inventories down to their lowest levels in decades and impacted total manufacturing time across all industries. However, some manufacturers have managed to maintain growth during this period, while others are being outmatched by their competition.
So, what sets these thriving manufacturers apart from the others?
It is the ability to make quick pivots to maximize procurement and supply chain agility. After analyzing both large and mid-market businesses, we uncovered four guiding principles for procurement in manufacturing that have helped organizations remain agile in today's global market. Below we outline what these principles are and how businesses like yours can implement a procurement solution that helps your business to respond to the global market with agility.
1. Download The Free Industry Guide
Before we get into the weeds, many procurement leaders found that having a downloadable step-by-step guide was great to reference later.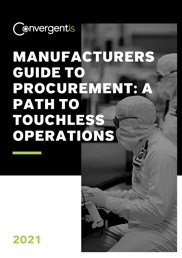 2. Remember Being Strategic Requires 360-Degree View
First, businesses need a system for procurement management that includes a complete (or 360-degree) view of everything that their suppliers may impact, including their costs, scheduled delivery, and returns. Currently, a study by Informatica shared that 76% of CFOs agree that without "one version of the truth, the organization will struggle to meet business objectives." Without this view, businesses will not have the right information on a supplier's ability to deliver the right products at the agreed-upon time and price. With limited data, because of supply chain disruptions, procurement teams may find themselves forced into costly spot buys.
The main concern isn't that this data isn't being captured. Rather, it is that this data is scattered across multiple systems and is not being presented in a format that gives business leaders intuitive insight into this information in real-time. Without a consolidated dashboard, business leaders will need to source data from multiple locations and later compile, format and analyze it into a usable format and ensure that they have full visibility into processes from the RFQ through to returns. Furthermore, to account for growing supply chain complexity, businesses have added numerous backup suppliers to their roster, which will also need to be considered as a part of ongoing negotiations, evaluations and optimizations.
2. Communication Between Buyers and Suppliers is Not Optional
A look at industry leaders in Supply Chain would suggest a well-constructed communication network is essential for procurement departments operating in the manufacturing sector. For example, RFQs require governance, coordination, and integrated information so that detailed side-by-side cost and pricing comparisons can be made involving multiple cost and lead time variables. For forecasting, real-time updates and visibility into suppliers adherence to committed inventory deliveries can alert buyers as soon as a disruption is imminent.
Some firms have already proven that they can communicate with suppliers as if they were one company by securely integrating them into their extended network. With proper communication, businesses and their suppliers can bring more creative solutions and real-time information to the table, which at times of uncertainty can ensure all deadlines are met. Without proper communication, the ability of the procurement department to adapt to changing conditions will be limited.
3. Supply Chain Optimization Is a Balancing Act
The third guiding principle is that optimized supply chains must focus on more than cost reduction. It's true, sourcing teams should be able to easily run product costing simulations each time a change occurs and pull data that will give a side-by-side cost comparison between two suppliers. However, the balancing act considers important qualities such as on-time delivery, maintaining quality standards, and other performance management metrics that are crucial to business success.
4. Businesses Should Look at Opportunities to Take Advantage of the Business Network Effect
The final guiding point can be further broken down into two areas of benefit, which can be noted by SAP's strategy itself with the introduction of SAP Business Network. SAP Business Network is a solution that provides a centralized access point to explore and collaborate with 14 million companies globally. The unified network will enable trading partners to leverage combined intelligence, so any insights from past experiences can be applied to future decisions. When a network combines across functions, SAP shares, "companies have the power to reshape how business gets done, including collaborating to solve some of today's biggest social, economic and environmental issues."
In addition to improved communication and intelligence, a secondary benefit can be noted from the creation of a business network. The best procurement software will allow businesses to easily manage supplier relationships through a network-like setup. A study from Informatica suggests that CFOs are already concerned with the limited options for suppliers, with 56% making expanding their list a top priority. It is not uncommon for businesses to rely heavily on a few top suppliers, without openly considering their contingency plans.
Final Thoughts
A properly managed procurement function helps manufacturers to stay attuned to their supplier network and adapt quickly to ever-evolving customer demands. Unfortunately, manufacturing companies typically have outdated systems that do not allow them to collaborate and ready themselves for adaptation. Out-of-the-box procurement solutions have become critical to making this an efficient process, allowing for future scalability and remaining agile in an environment defined by uncertainty. As a result, leveraging partner applications along with SAP technology like SAP Ariba whenever possible is critical to a business's success.
Is your team considering SAP solutions for supplier management? We can help! Learn about our packaged offerings for procurement in manufacturing by visiting our solutions page.