A company's human capital is perhaps its most important asset, but it is also one of the most complex aspects of operating a business. Employees present a variety of qualitative factors that can be difficult to put into numbers that work for analytics. So, how do you approach quantitatively assessing workforce factors such as recruiting, performance management, or employee engagement to detect future trends and drive organizational success?
Perhaps you've spent time creating numerous ad hoc reports in SAP SuccessFactors because you don't have a template that covers your business scenario. It could be that your challenge is visualizing raw data in a way that effectively highlights key insights. Or maybe complex calculations just aren't your strength, and you lack the time or resources to learn advanced reporting methods.
Read on to learn about five ways to improve and accelerate your workforce analytics with the SAP Analytics Cloud (SAC) pre-built content package for SuccessFactors.
1. Rich data visualization provides business intelligence that is easy to digest.
Users familiar with ad hoc and advanced reporting functionality in SuccessFactors will recognize the limitations presented below. Data is buried across multiple columns, with an added step of exporting to Excel or another tool to create even the simplest visualizations to quickly review and compare the information.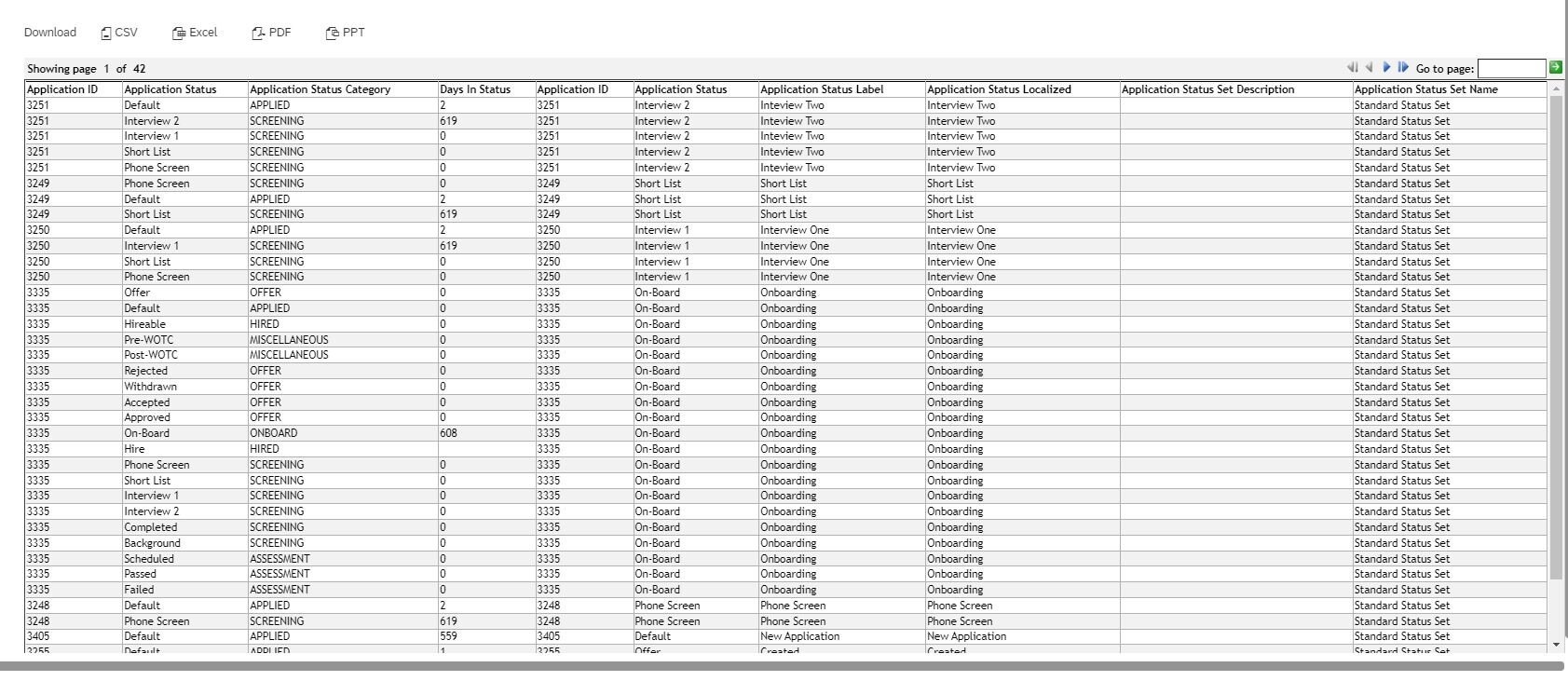 In contrast, SAP SAC provides immediate access to a variety of visualizations, turning raw HR data into valuable information that is more accessible and easier to process to guide informed decision making.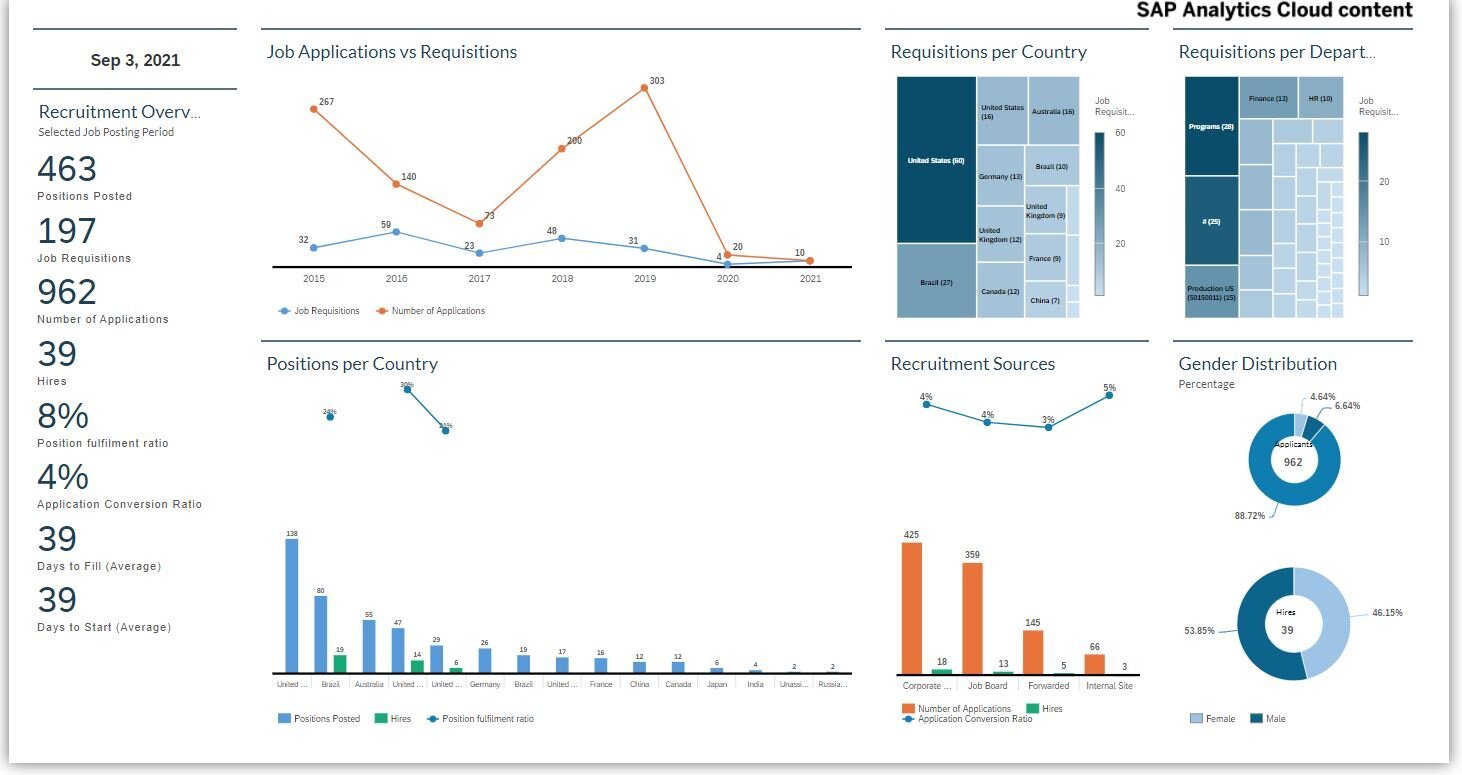 Quickly visualize key talent acquisition data points across a variety of parameters.
2. Robust data analytics features allow you to go beyond the standard capabilities of the out-of-the-box SuccessFactors analytic tools.
Say goodbye to time consuming, custom report builds in the SuccessFactors Advanced Report. With SAC, any user can compile calculations using various operators with minimal training.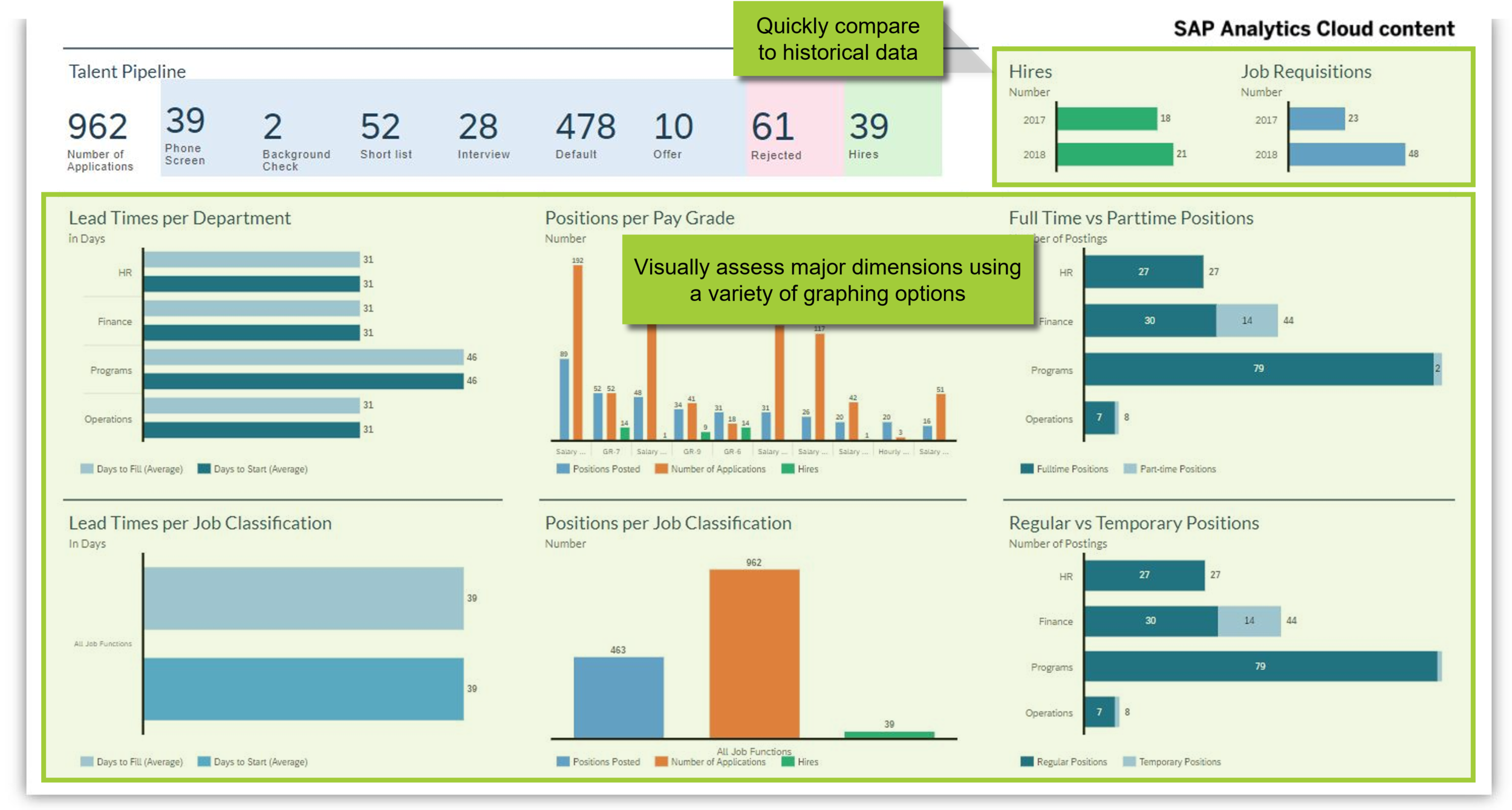 Get an instant 360-degree view of your HR data and make faster, more confident decisions.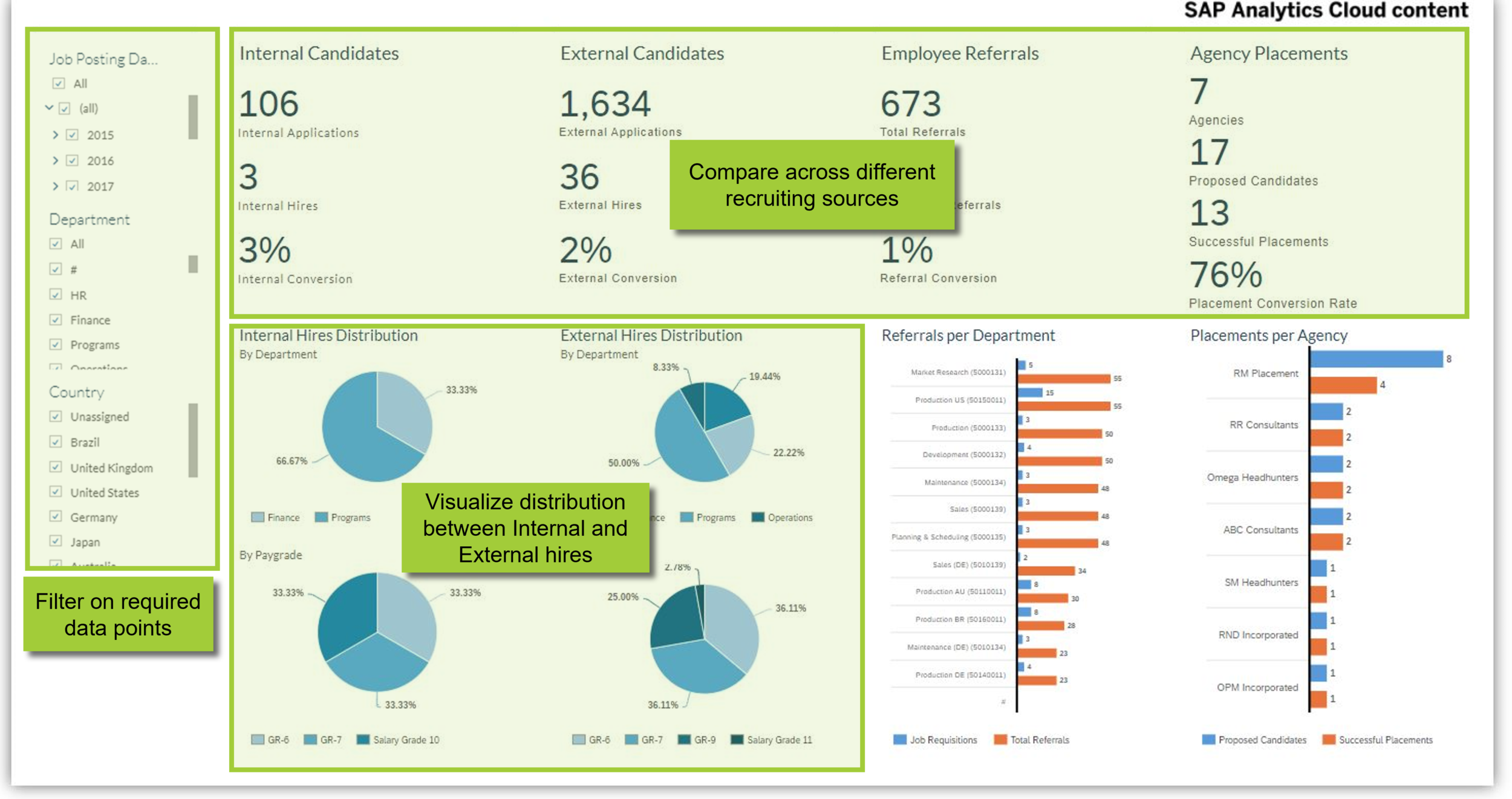 Assess current talent, open requisitions and hiring timeframes in a single view, and drill down to explore additional detail.
3. Automated updates for live data or routine extractions ensure your report data is always in sync with your SuccessFactors data.
An SAC story can retrieve data from data sources you have configured. Whether one source or multiple, you only need to configure the data source once.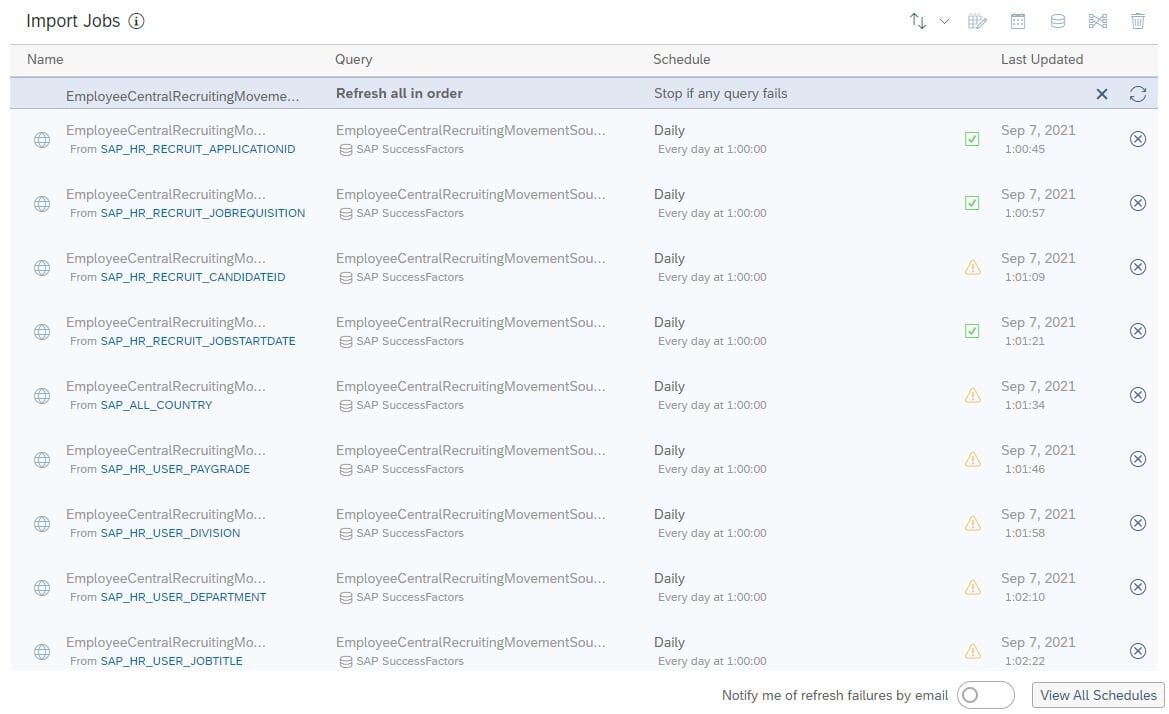 Data imports can also be scheduled to meet your preferred update timelines.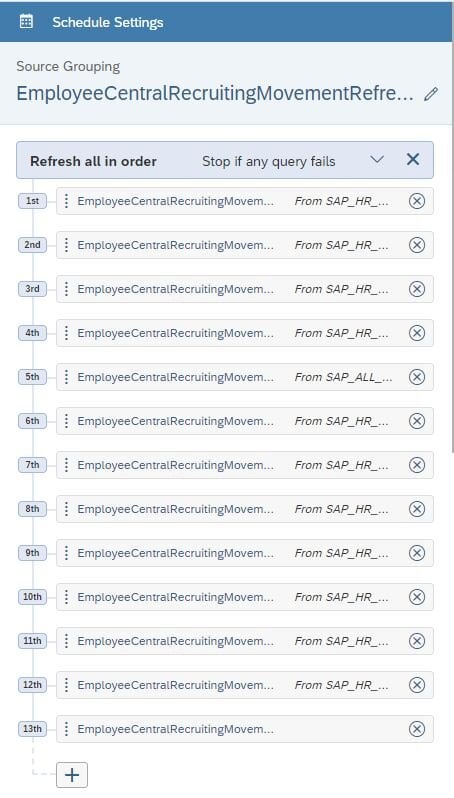 4. Pre-built content helps you adapt to the platform quickly.
There are hundreds of SAC stories with professional visual design, comprehensive calculations and logic built in to meet a wide variety of reporting and analytics requirements. Invest in a partner-built solution or use SAP pre-built content for SuccessFactors and other SAP lines of business products, which is included in your SAC solution at no additional cost.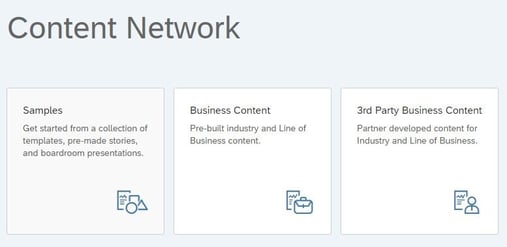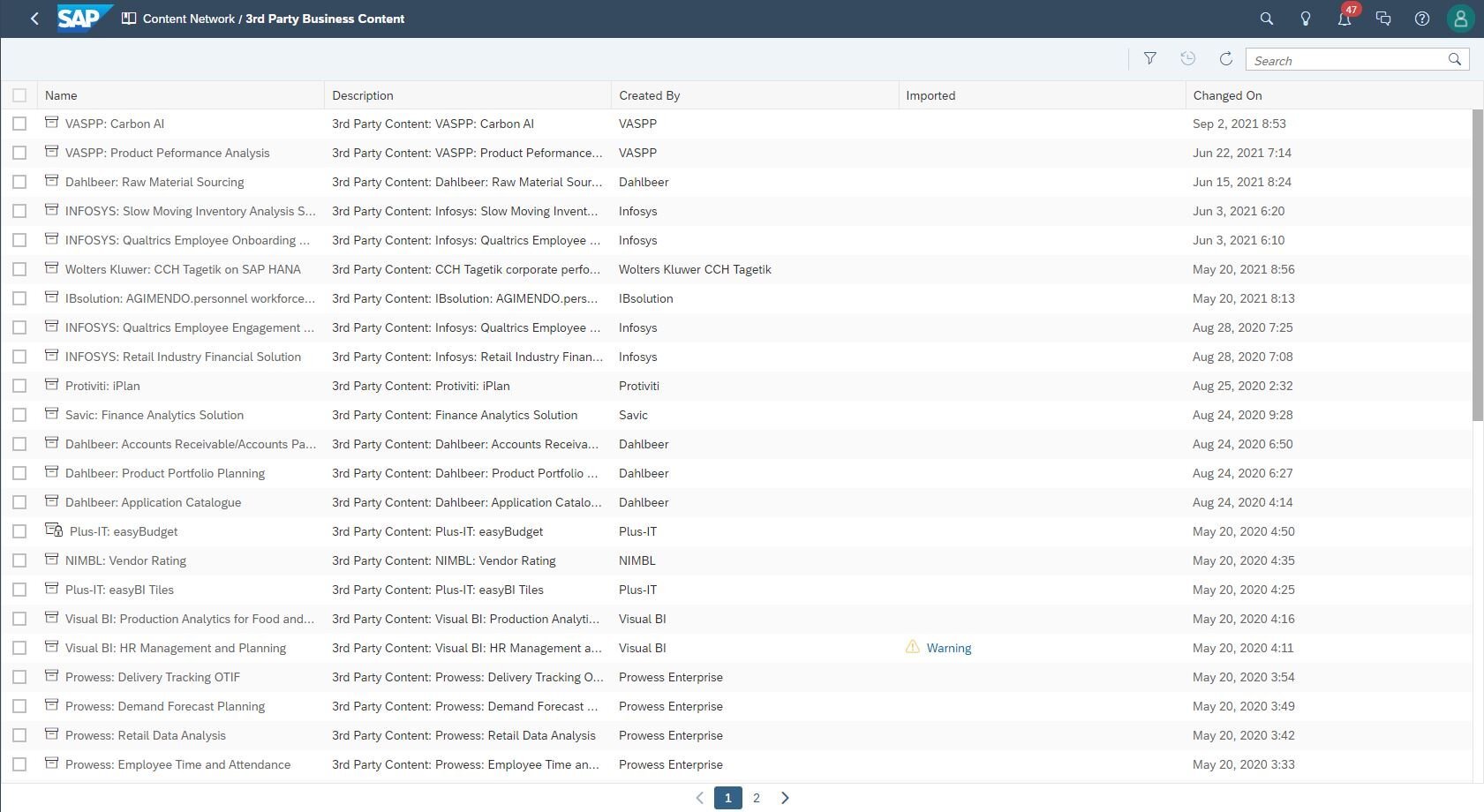 5. SAC designer allows you to make customizations with easy and intuitive features.
Pre-built content provides you with a framework that you can quickly adapt. But you also have the flexibility to modify it to suit your needs once you are comfortable with the tool and ready to start your own custom SAC story creation. The possibilities are endless!
Getting started with SAP Analytics Cloud
SAC and the pre-built content offer a significant portfolio of benefits. Initial setup takes some time, but a bit of effort upfront will ensure that you are able to conduct the analysis you require to provide long-term benefits to your workforce management strategy. There are some excellent resources on OpenSAP and SAP documentation to help you get started.
At ConvergentIS, we often say that we "eat our own cooking." We run our business on S/4HANA and leverage SAP Analytics Cloud to provide insights into our operations. We would love to provide our expertise to help you get started on your journey with SAC.
Whether you are looking for more information on SAP pre-built content for SuccessFactors, require help building custom SAC templates, or are just getting started with SAC, contact us for a free demo and to discuss your unique requirements!