Organizations incur losses every year due to poor time management practices. With poor time management, projects are not tracked with the accuracy necessary to manage budgets or make future quotations, cutting into an organization's profits.
To address a perceived gap in integrated solutions within their technology stack for services procurement, many teams have turned to third-party bolt-on solutions. These solutions help to address the gaps that exist between how your users work and the standard available functionality; however, they introduce a different set of challenges and complexities.
By working with organizations that have leveraged external solutions, we've found that integrated time management solutions provide businesses with benefits that aren't always available in their bolt-on counterparts. Below, we provide some further details on why this is the case using the SAP ecosystem as an example.
1. Separate Licensing Costs Add to Your Monthly Expenses
When considering ways to improve your bottom line, the most common solution is to reduce your expenses. Licensing costs from a third-party solution may be anywhere from $5-$10 or more per user/month. Depending on the number of employees you have within your organization this can add thousands of dollars to your monthly expenses. Although these costs may seem nominal, bear in mind that your organization is typically paying this in addition to licensing fees for your SAP system.
2. System Complexity Comes at a Cost
Integrated Fiori applications leverage existing configuration and data to integrate seamlessly with SAP infrastructure. With integrated solutions, challenges that are often experienced with maintaining synchronization with a third-party solution are removed; updates to the system of record (SAP) are immediately available to the Fiori app, and updates in the app are immediately synced to the backend. With the additional system complexity that comes with integration between an SAP backend and a third-party solution, businesses are required to invest time and money to set up and administer the external solution to synchronize data between systems.
Generally, this is not a one-time cost, as maintaining the integration between SAP and another external solution requires ongoing IT support. With updates to your ERP system, the requirements and corresponding costs may change, so it is difficult to determine the true impact on a business over time.
3. Approval Workflows Keep Projects on Track
Ensuring that projects stay on track and that billable work is approved for invoicing on time requires a consolidated approach to time record approvals.
Time records that are routed to the correct project, cost center or order approver are critical to ensuring that the correct people on the team take responsibility to review and approve the time that is submitted. A well-integrated solution draws from your SAP system to automatically identifies where the time should be routed, leverages SAP workflow, and presents leader with clarity on the time records they are approving. An approval process is a bolt-on solution that will also work, but it requires maintenance and attention to ensure that time records are routed correctly.
4. Improved Visibility Enables Strategic Decision Making
Business leaders make decisions with the intent to improve performance and, eventually, profits. Making these decisions requires complete visibility into project metrics, productivity, resource utilization, budget and other costs associated with strategic decision making.
When all time tracking data is input into an integrated time management system, business leaders can easily tap into the data they need to get an accurate overview of employees' time and make decisions accordingly. By consolidating data into a single source of truth, project estimates are made with greater accuracy and leaders can ensure that the team is not submitting additional hours that there is no budget for.
Finding a Solution That Works
When implementing a solution into your own environment, the key is looking at how your users are working and what solutions exist that take advantage of your existing investments. Our team at ConvergentIS used design thinking to help understand how users work and used this information to develop a solution that can be completely integrated into an organization's SAP backend. With the application, leaders can gain visibility into time allocation by employee/contractor, project or order, and employees (whether full-time workers or contractors) gain access to streamlined, accurate time reporting they can access anywhere.
ConvergentIS Time Management Suite Overview
The My Time Entry application directly leverages your SAP configuration settings for time entry and presents users with an easy-to-navigate calendar view. Visual cues and embedded notifications allow users to quickly identify which entries have been approved or rejected and where time may be missing.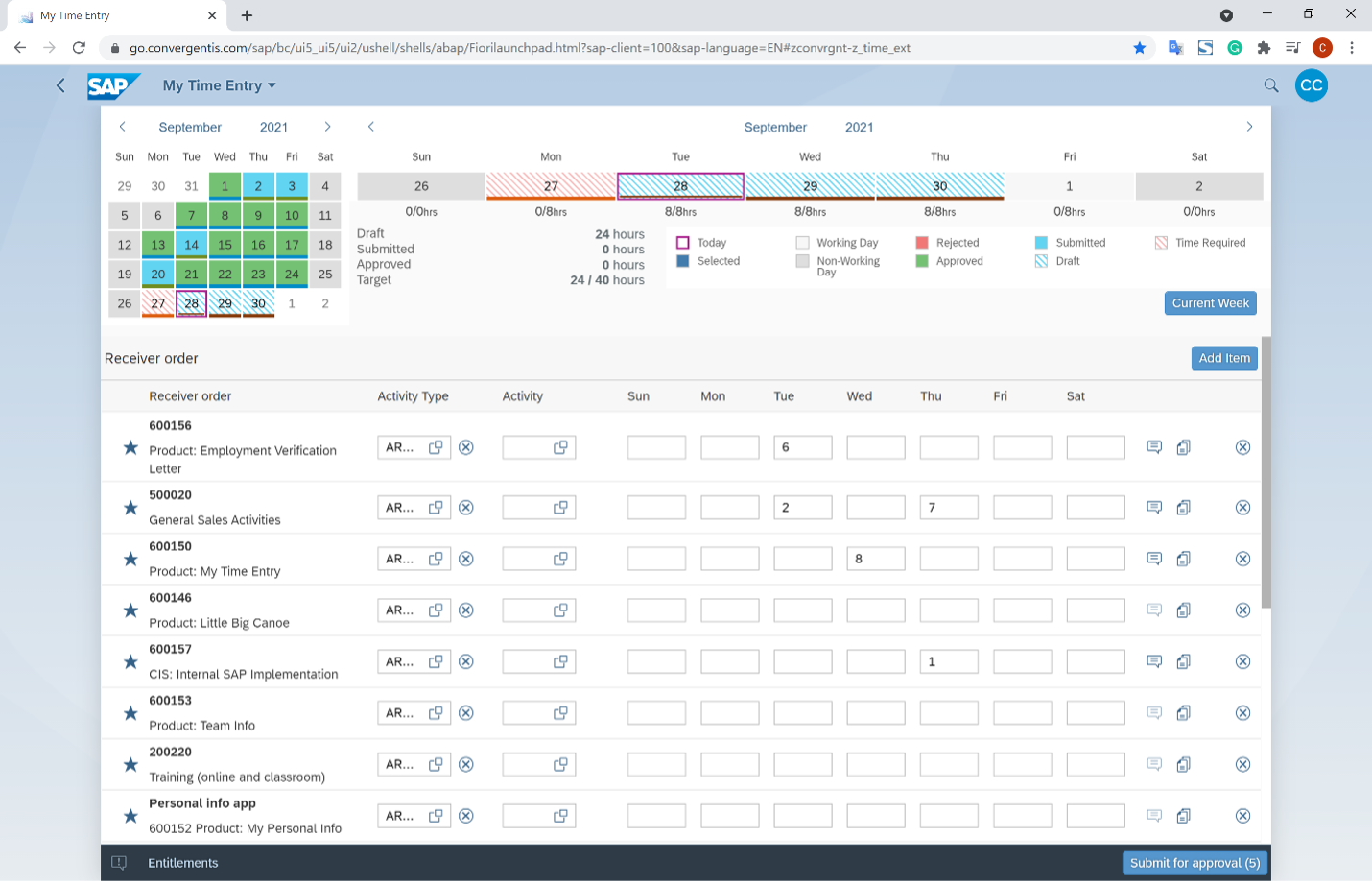 The Time Reporting application provides project, cost center and work order owners with a consolidated view of the hours that have been submitted for a project. Users can tailor reports with filters to extract key data and can specify which columns are displayed to provide invaluable insights into the allocation of costs.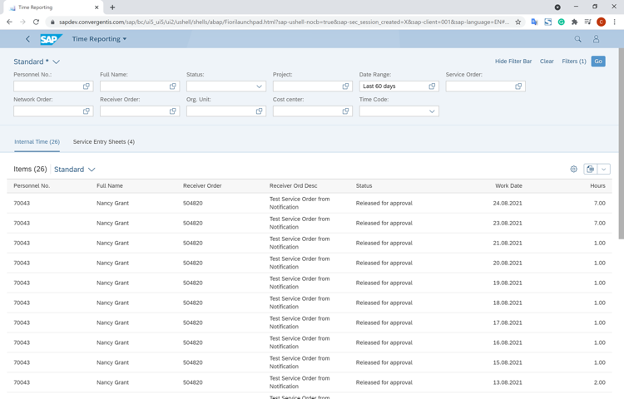 Finally, ConvergentIS has built targeted workflows to ensure that time entry is routed to the correct approver with clear visualization of the reported time via extensions for MyInbox. Approvers can quickly gain insights into time, hours, dates, and comments submitted by their team, to guide their approval process.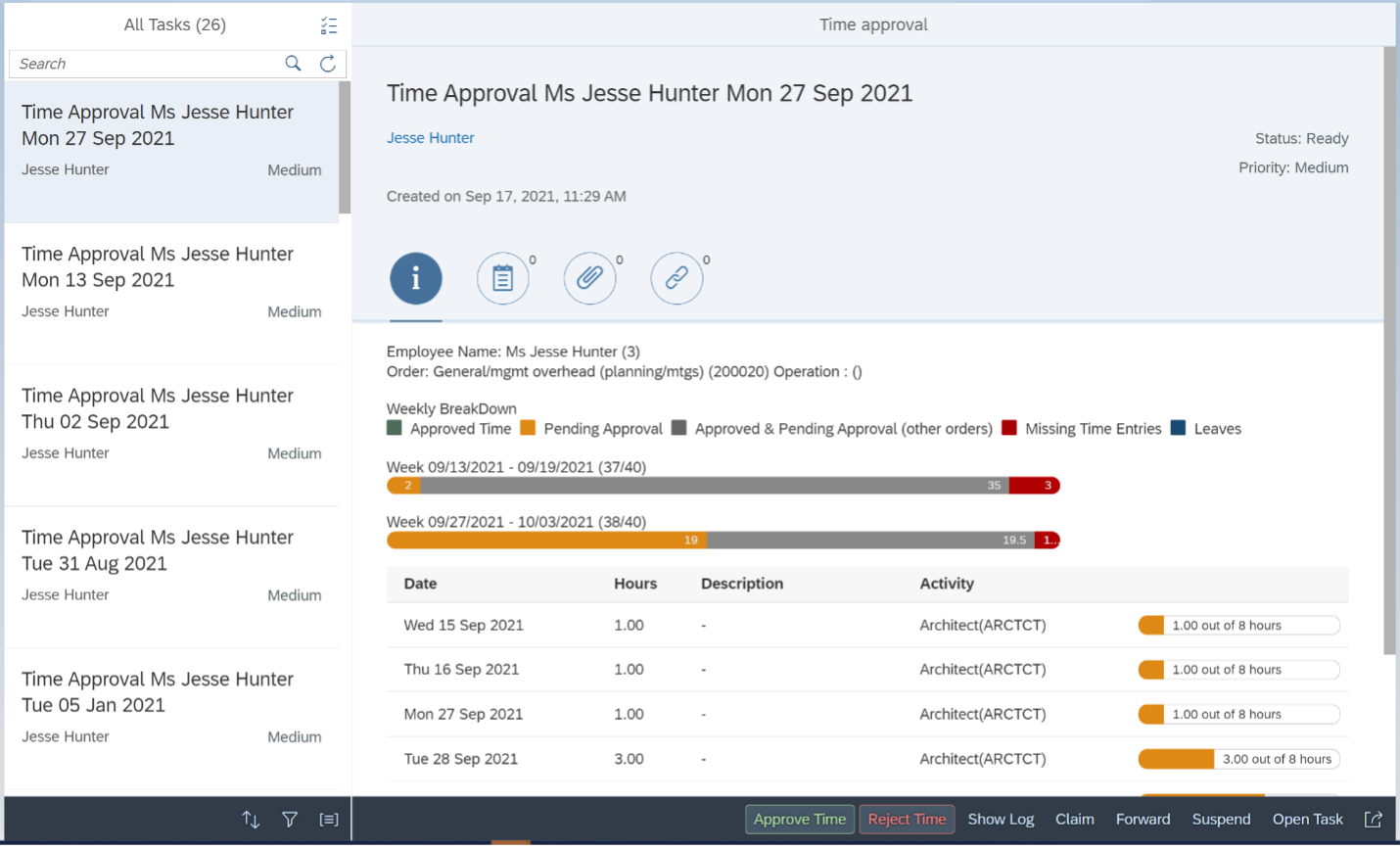 These screenshots provide just a small glimpse into our existing time management solutions suite. Our team continues to grow our portfolios by introducing new crew management features, including time entry on behalf of workers, time entry delegation, and more.
To learn more about the benefits of an integrated time management solution, we encourage you to check out our product page linked below.