Depending on your business' cloud strategy, you might have begun to consider which SAP enterprise mobility solution your team should be implementing. There are only two key contenders, SAP Work Manager, and SAP Asset Manager when comparing mobile offerings. As a quick recap, SAP Work Manager was created to help field maintenance workers visualize their tasks on an electronic device and record their work. More recently, SAP came out with SAP Asset Manager as the newer version of this product with an increased focus on workflow focused design.
To provide you with the necessary information, we put together a couple of key considerations for each solution. Additionally, for teams that are currently running SAP Work Manager, it is likely that you have begun to wonder if it is time to make the transition to SAP Asset Manager.
Determining Your Strategy
Some of the preliminary questions we recommend your business begin asking are:
How relevant is Cloud to your business / IT strategy?
If your business is not looking to transition to Cloud, SAP Work Manager is the only on-premise offering. This question alone won't determine what solution your business should proceed with. We also encourage businesses to do a functional comparison of the standard out-of-the-box Fiori Web apps available Fiori App library. Opportunities also exist to build custom Fiori Web applications/ Native/Hybrid/Fiori client apps. For reference, we encourage you to read our Fiori application case study.
To determine, when custom development is necessary we encourage you to walk through our simple guidance framework.
Does your business require a specific mobile OS to be supported (Apple iOS, Android or Windows)?
SAP Asset Manager does not support Windows Devices. Therefore, if your business primarily uses windows laptops or tablets, SAP Work Manager will likely be a better fit for your team. If your team works primarily on iOS/Android, SAP Asset Manager will support your team's requirements.
Are you an existing SAP Work Manager on Premise customer?
SAP Work Manager Cloud edition and SAP Asset Manager can connect to an existing SAP on Premise backend. SAP Asset Manager features like SSO with SAML2, improve sync performance over Work Manager. AIN integration and GEF integration increase the functional feature disparity between SAP Asset Manager and SAP Work Manager. Therefore, if your business doesn't require an on-premise solution switching to SAP Asset Manager might be in your best interests and can be simplified using our Rapid Transformation solution.
What is your timeline to have your new solution live?
Subscription-based services on Cloud tend to require less set-up time, especially if options for Qualified Partner Packages exist.
Once your team has reviewed and answered some of these preliminary questions, it will be time to make a more in-depth comparison between the two.
SAP Work Manager vs. SAP Asset Manager
SAP Work Manager or SAP Work Manager cloud edition likely makes sense for your business if your organization requires any of the following features that are currently available in SAP Work Manager and are not available in SAP Asset Manager:
Support for Windows OS

Vehicle Stock

Create/Edit Maps

Inbound Transaction queue
SAP Visual Enterprise Integration
SAP Work Manager might also make more sense if your team requires infrastructure for the mobile solution to be in OP deployment (SAP Mobile Platform).
A case study for SAP Work Manager cloud edition can be found on our website.
On the contrary, SAP Asset Manager is likely a better choice for your business if your team will require:
Asset/location hierarchy view

Analytics (Line Charts/Bar Charts)

Dynamic forms

Integration with SAP Intelligent Asset Management

Integration with SAP Geographical Enablement Framework
A complete feature comparison is included in the section to follow.
SAP Asset Manager and SAP Work Manager Feature Comparison
Even if the features that your business requires don't exist on SAP Asset Manager just yet, it doesn't mean the features won't ever exist. This feature comparison provides a roadmap for new releases that can help your business identify when the right time to deploy SAP Asset Manager might be.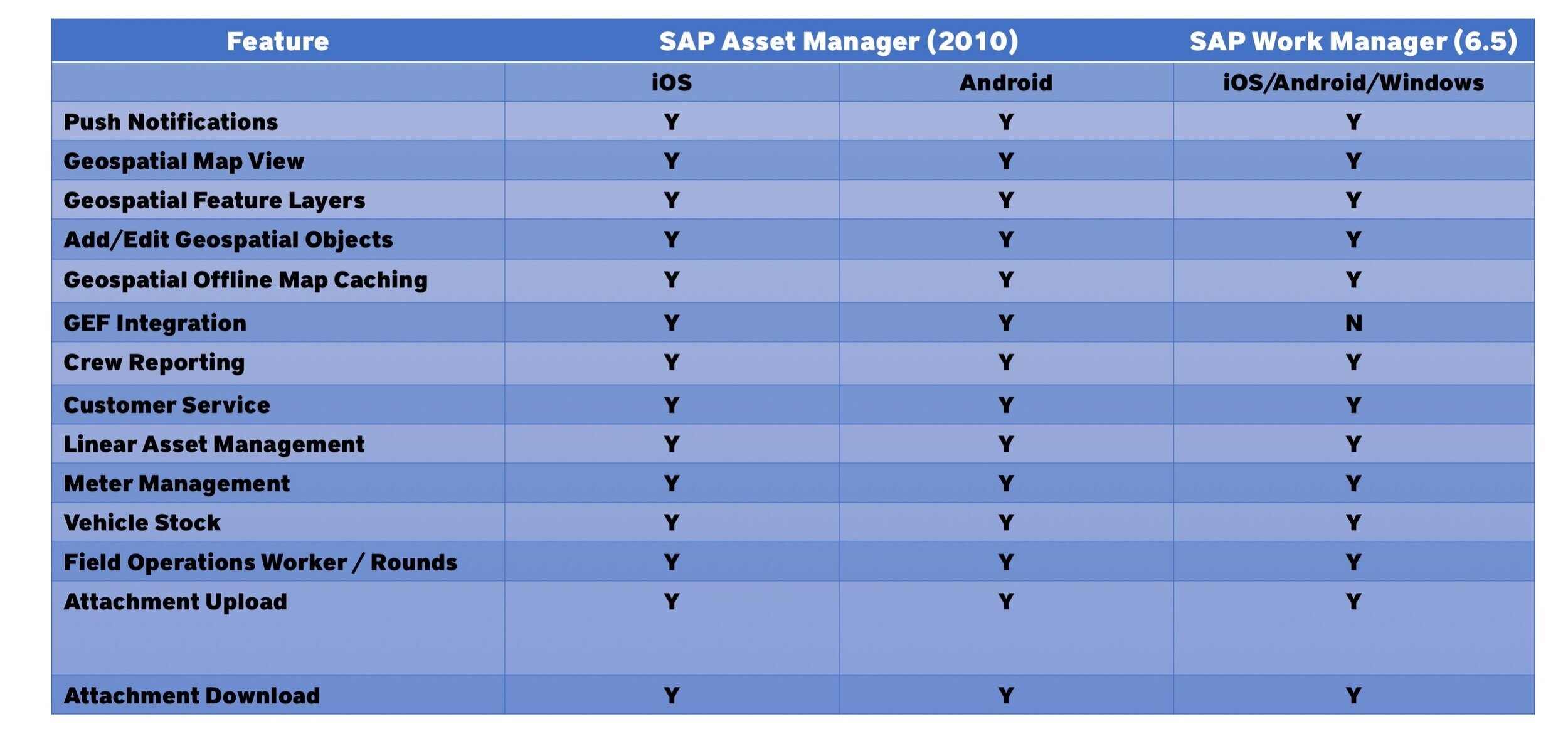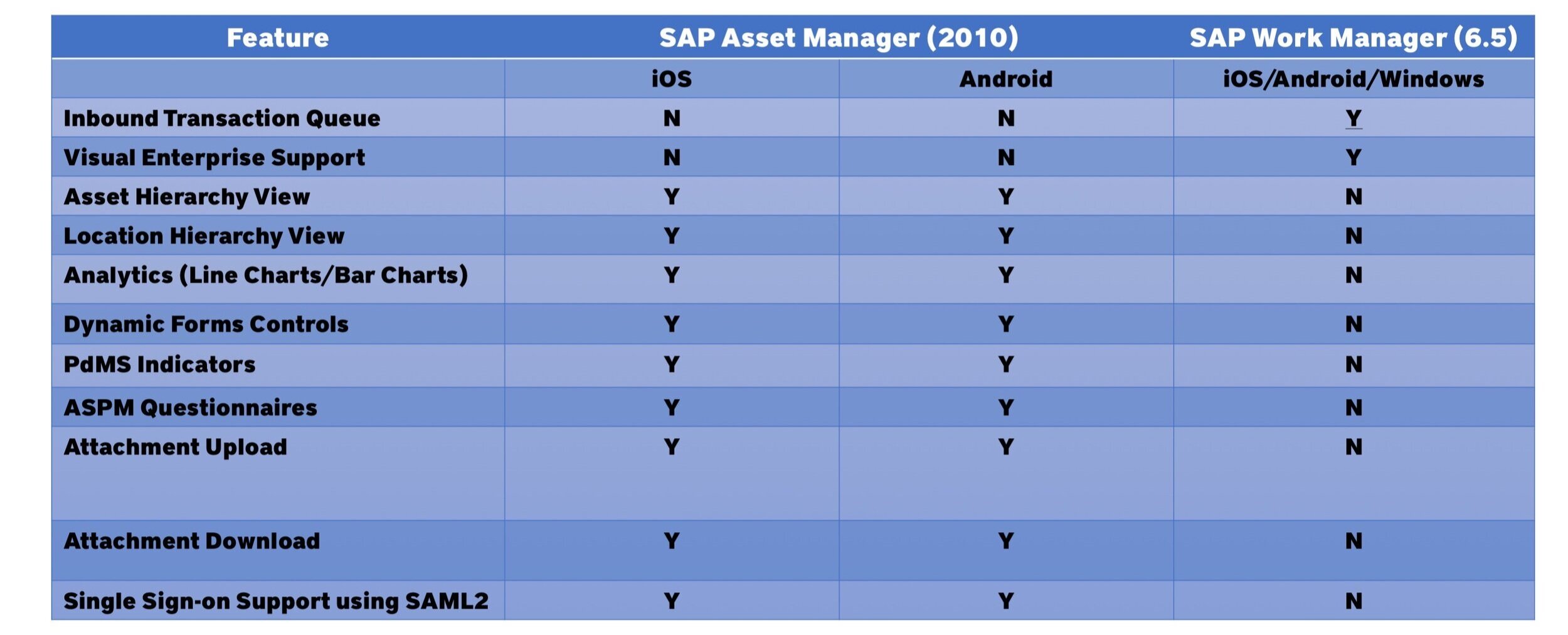 Side by Side Comparison of SAP Work Manager and SAP Asset Manager
Although many considerations must be made, this summary table provides a good overview to use in your decision-making process.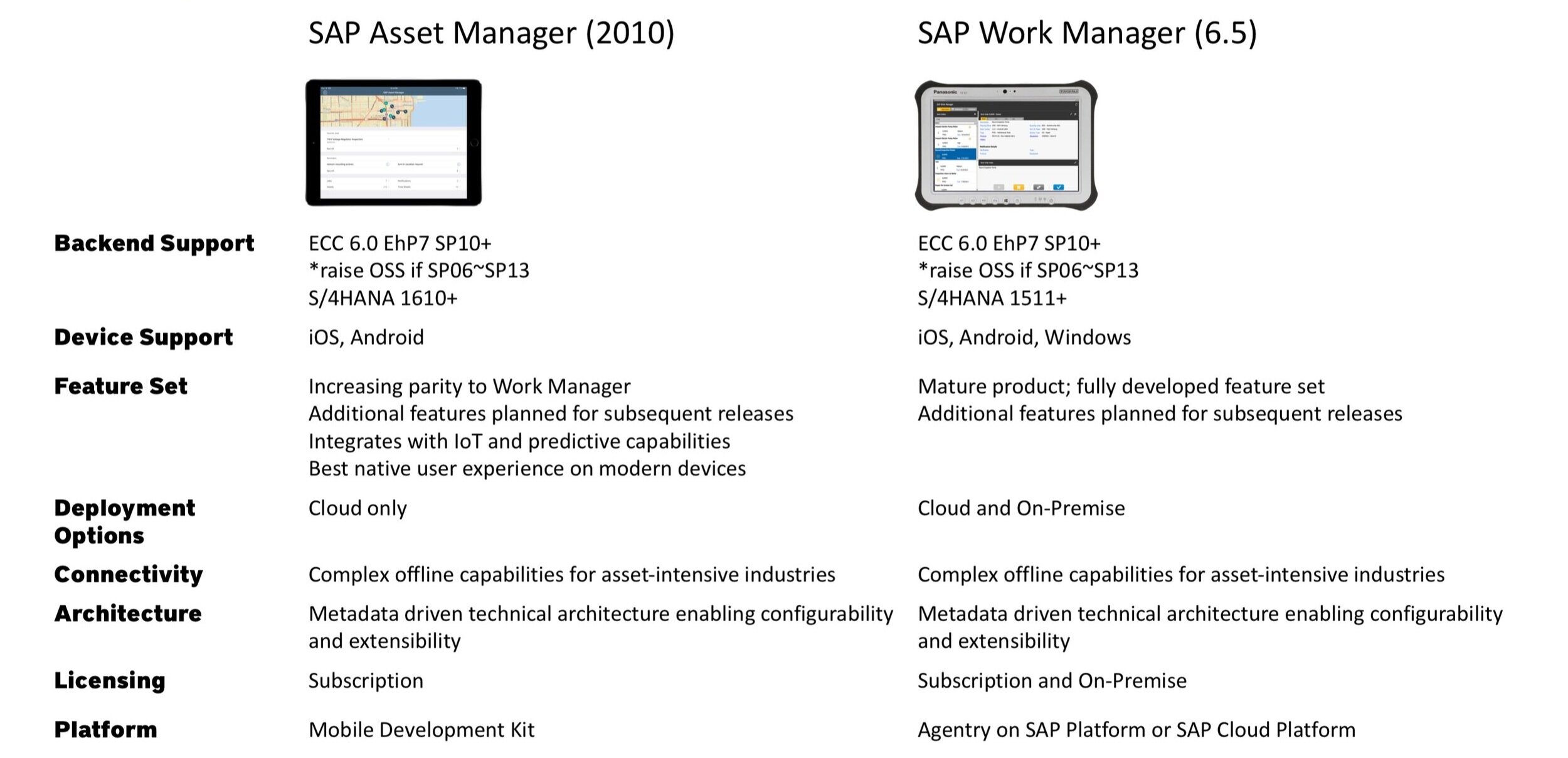 While both products will provide your team with the mobile capabilities necessary to improve response time, extend asset life, and increase ROI, the best option will depend on your organization's unique processes and long-term goals.
Our team has created an SAP Qualified Partner Package to help in the deployment of SAP Asset Manager. However, if your business is still in the research phases of your search, we encourage you to learn more in our post answering the five most common questions businesses ask before choosing SAP Asset Manager.