This content can also be found on the SAP Community Blog.
BTP stands for Business Technology Platform and is a portfolio of SAP products, services, and solutions that are brought under one umbrella. It's not a product and, as of now, can't be found on any price list. It's a collection of on-premise and cloud products and solutions grouped under four integrated technology pillars: database and data management, analytics, application development and integration, and intelligent technologies.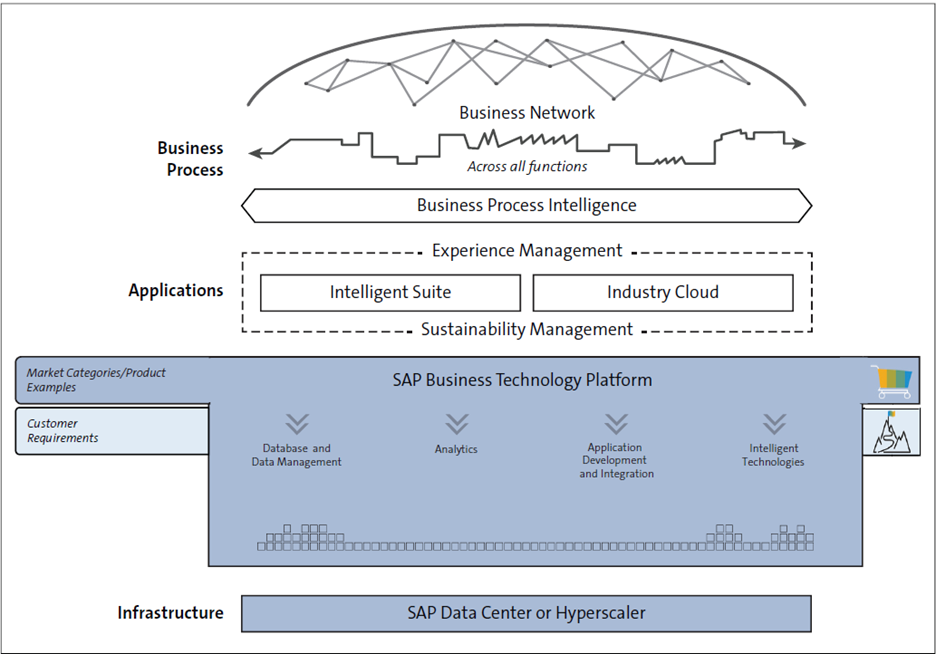 Database and Data Management
This pillar consists of everything you need to store, access, process, integrate, and interpret all relevant data in your landscape. The different services and products categorized under this pillar let you manage and use data in a flexible and efficient manner at the speed your business demands. SAP HANA and SAP HANA Cloud provide powerful and flexible data management through an in-memory database on-premises and in the cloud. It's the foundation of everything in SAP. Additionally, SAP Data Warehouse Cloud enables you to get a single view of data across every aspect of the organization without having to physically move it into a single place. Data is brought together on the fly as and when it's needed for insights and decision making.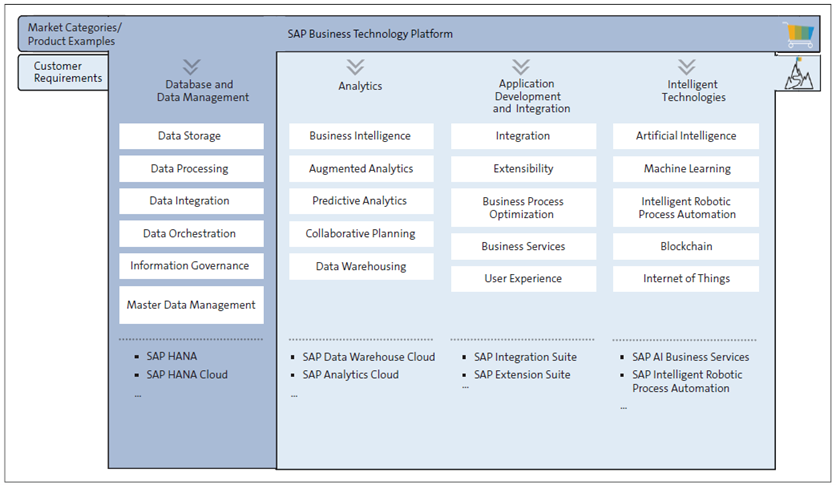 Analytics
Using the products under analytics, you can plan and forecast, make rapid decisions, and truly become insight driven. SAP Analytics Cloud allows you to quickly bring data from your operations systems, data warehouses, and data lakes and easily combine it with external market data or even third-party spreadsheets using machine learning technologies. The system helps you automatically spot anomalies and identify key drivers behind your performance indicators. You can forecast what's going to happen and create intelligent scenario planning options. You'll also find products such as SAP Data Warehouse Cloud, SAP BW/4HANA, SAP Analytics Cloud for planning, and others.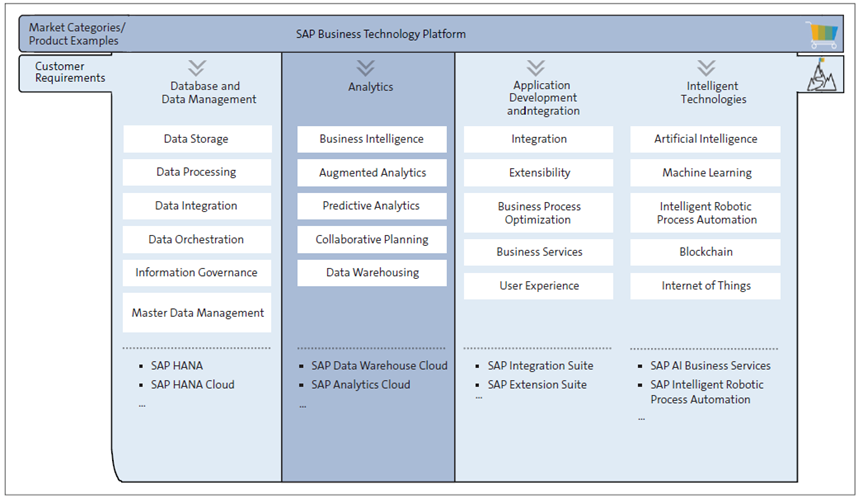 Application Development and Integration
SAP BTP is designed for business transformation and not just technology transformation or optimization. The application development and integration pillar gives you everything you need for agile business process innovation, extension, and integration in the cloud and across hybrid scenarios. You can easily integrate different systems, extend your current application, or create new point solutions for urgent needs. Using design thinking approaches, you can iterate and experiment to revive the ideal user experience using the intuitive SAP Fiori interface. SAP Extension Suite is part of this pillar and provides various services that can be leveraged to build and extend SAP solutions. Partners can also build extensions that they can sell on the SAP Store as extensions to SAP solutions. SAP Integration Suite, on the other hand, lets you seamlessly integrate SAP and non-SAP solutions both on-premise and in the cloud.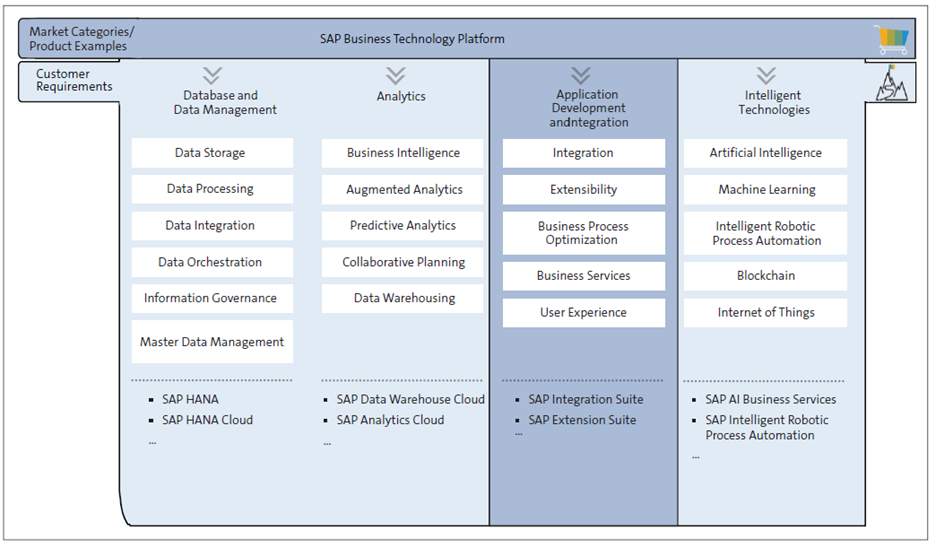 Intelligent Technologies
AI, machine learning, and IoT are getting embedded into everything—both simple and complex business processes. SAP solutions such as SAP Intelligent Robotic Process Automation (SAP Intelligent RPA) and machine learning let you automate the kind of complex repetitive decisions that make up a significant portion of business processes. This frees up your most valuable resource of all, people, who can now focus on innovation.
SAP BTP gives you the flexibility of implementing products and solutions independent of one another, but once you start integrating them, you create a "better together" scenario to quickly solve some of the most challenging business problems that you might not have imagined could be solved in the past, especially when looking at one stack of the technology pillar.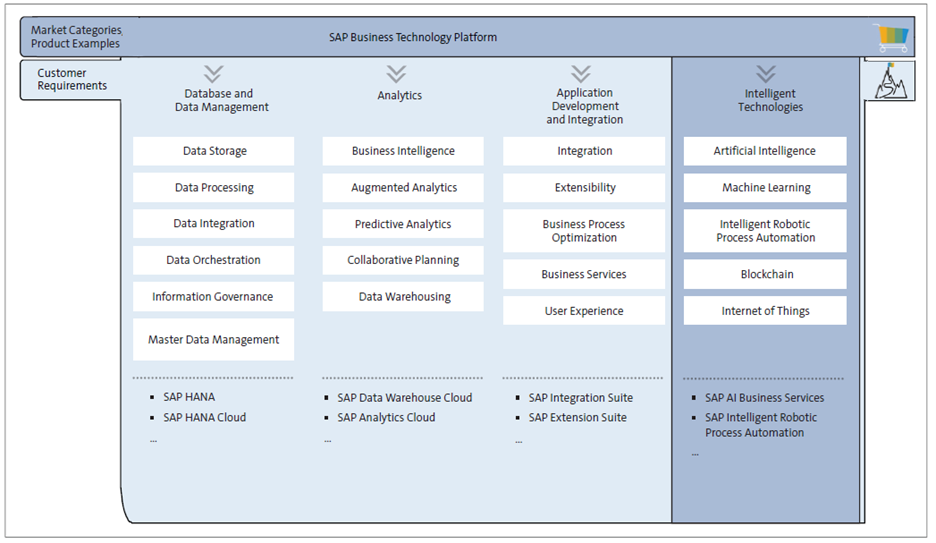 What Happened to SAP Cloud Platform?
A unified, business-centric, and open data, development, and integration platform was created with SAP BTP. SAP wanted to send the message to all its customers that SAP BTP is the platform for the intelligent enterprise. To avoid confusion in the market by having two platforms, SAP Cloud Platform was no longer required as a standalone brand. As a result, the SAP Cloud Platform brand has been sunset. All of its capabilities have been moved under one of the four technical pillars of SAP BTP and are available as products and services. Note that SAP BTP didn't replace SAP Cloud Platform. SAP BTP encompasses the capabilities of SAP Cloud Platform and more.
Learn more about how we help organizations like yours optimize their procurement and supply chain processes with SAP BTP and Rapid Vendor Portal solutions.